From my recent trip to Isojärvi National Park I present thee some more wildlife pictures and stories. There was no shortage of wildlife on this trip, and as I sat down this afternoon to remember all the impressions I decided to share some additional photos.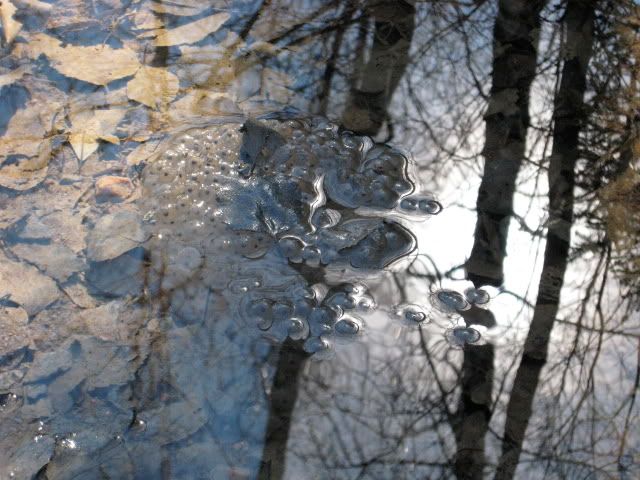 Frog spawn



Groupsex and a happy onlooker


Black-throated Diver

The first spring flowers

These weren't all, but I was too slow to snap pictures of the other animals. A common pheasant was seen while walking on the grit-road. A Black Woodpecker I saw on my way to the Kalalahti lean-to shelter, its pecking sound was heard already way before I finally spotted it. The Black-throated Divers - there were two couples on the Kuorejärvi lake - has an incredible call and I was first thinking that an Elk must be in the forest across the lake - how wrong I was! They also had quite show going on after dawn, running two full circles in the water around the island and slapping their wings in the water.

There were a few more birds I saw, but being far from a expert on birds I wasn't able to identify them. However, I managed to distinguish the frogs and toads. Toads are considered frogs, but there is the sub-species of the "true toad". I saw a common toad which disappeared into its underground shelter as I approached, not even two meters from my sleeping place. All the frogs and toads showed that it was an amazingly healthy environment I was in, as they are considered a good indicator for an intact ecosystem.

I already mentioned the two pike earlier. I heard an Owl at night, but am not able to tell which species. Thus all in all, quite a variety of wildlife for only two days out in the forest. Sure, there was nothing huge like an Elk (of which I saw two the weekend before, as I was fishing with my father-in-law in Vaasa) or rare like a lynx or bear, though I was happily surprised about the amount of wildlife I saw. I expect it will increase even during the following weeks, as spring turns to summer. Thus I hope to be able to snap some more photos of the wildlife here in Finland on my next trips, about which I will tell you soon more.