Bite-sized gear reviews, spring edition.
Gear Outtakes is a seasonal collection of kit and what I think about it.
★☆☆☆ Mediocre, I wouldn't spend money on it.
★★☆☆ Good, but there are better options.
★★★☆ Great, worth your money.
★★★★ Outstanding, the benchmark of its category.
DISCLAIMER
Some of these products have been sent to me for free by the manufacturer.
Black Diamond Alpine Start Hoody
★★★★
150€, available at Amazon.com, Backcountry.com, Bergfreunde, Bergzeit (On Offer!), Campsaver.com and REI
I have reviewed the Alpine Start Hoody before, but I felt that after another two years of intensive use it's time to highlight once more how much I love this wind jacket. I use it almost daily, when out with the kids, cycling, and it is the first thing that I pack when I go hiking & backpacking. After so many years it is not so water-resistant anymore (even when I clean it regularly with special detergents), but it still holds the wind out like a king. There's a little hole in the left sleeve where I was bushwhacking, its a bit dirty at the cuffs from the almost daily use, but other than that I still love this jacket heaps and I'd be my first recommendation if someone is looking for a wind jacket/ softshell. / 204 g in Size M
Arc'teryx Alpha FL Jacket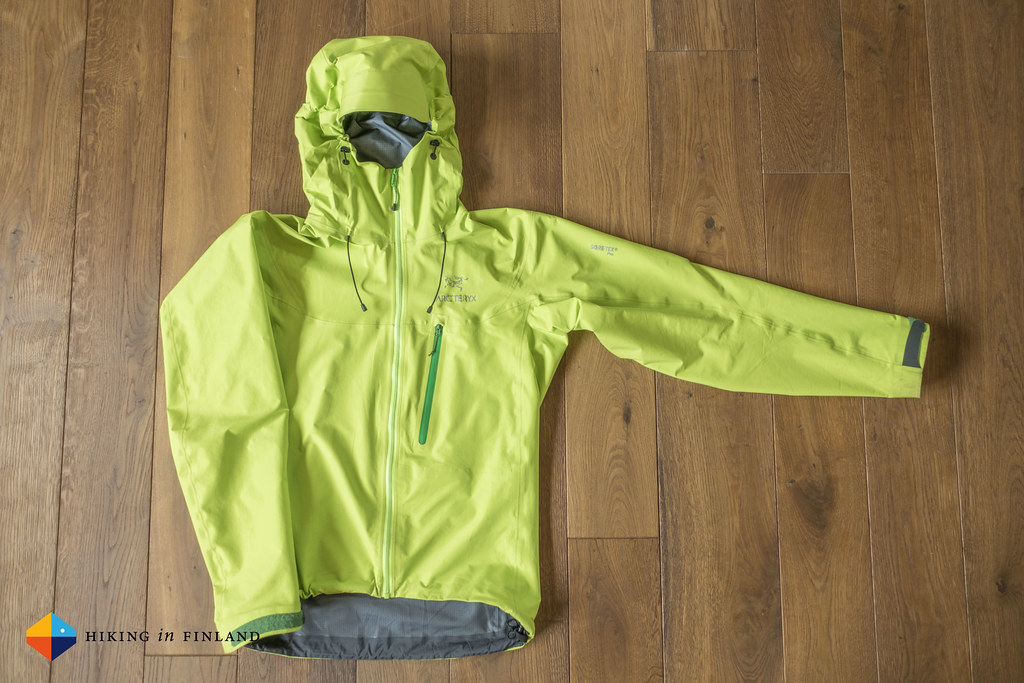 ★★★★
350€, available at Amazon.com, Backcountry.com, Bergfreunde and Campsaver.com
The Alpha FL Jacket is an ultralight Gore-Tex Pro hardshell which is made for fast & light alpinism, and hence is great also for ultralight backpacking. Sure, there are even lighter hardshells out there, but this is such a great fitting jacket for me that I don't think I need to continue the hunt. It takes all the abuse I throw at it - from jamming myself into a crack in the rain to hiking through the undergrowth - which I like a lot. The sleeves are a wee bit longer and so keep the hands dry when gloves stayed at home, the one pocket is again useful for some small items like my camera, and if not needed it packs down to a volume of one litre and disappears in the pack. There's noting superfluous on this jacket, it allows me all the crazy moves I could come up with and looks good - what else do you need from a hardshell? / 270 g in Size S
Patagonia Nano-Air Hoody
★★★☆
€, available at Patagonia, Amazon.com, Backcountry.com, Bergfreunde, Bergzeit, Campsaver.com and REI
I have used the Patagonia Nano-Air Hoody now over a year, from hiking the IAT in Ireland over ski-touring to spring and summer hikes across the globe. It's in combination with the Alpine Start Hoody currently my most worn insulation layer, though it's really a breathable insulation layer as it is made from Patagonia's FullRange material (think Polartec Alpha). It's a super-stretchy piece, not wind-resistant but in combination with a wind jacket a great layering piece. I have been sceptical about breathable insulation materials, but after a week-long autumn hike in the rain and sleet of Sweden I was convinced. It's great to have a piece on that keeps you warm when you stop and doesn't heat up too much when you're moving, especially in wet and cold weather. In warmer weather (anything over 10°C for me) it's too warm, though, and I'll shed it as soon as I start to feel too hot. It's not too warm on its own either, but with a wind jacket or hardshell on top it's a good insulation piece. With four pockets it's also good for keeping stuff close by (snacks, camera batteries and a gas canister when you get closer to camp). The shell material is pretty sensitive, though, so bushwhacking in it will destroy it in no time, as will intense rock contact. / 352 g in Size S
Arc'teryx Satoro AR Zip Neck LS
★★★☆
150€
The Arc'teryx Satoro AR Zip Neck LS isn't available yet in the shops as it launches in the autumn. I was given one when I visited Arc'teryx in Vancouver for the Procline Ski Boot and Voltair Airbag Launch, and have used it ski-touring and hiking over the last six months. Made from Merino wool and a synthetic core it combines the benefits of the two materials. The baselayer has a great fit for me (as have all Arc'teryx pieces with an Athletic cut) and I like the feel of the material on the skin. It stays odour-neutral pretty long, five or six days is no problem. The little chest pocket is good for e.g. a camera battery and SD card, and the long front zipper is great to dump heat. The price is pretty steep, though. / 202 g in Size S
Black Diamond Coefficient Vest
★★★☆
120€, available at Amazon.com (for $60!)
The from Coefficient Vest Black Diamond is not easily available anymore and that's a sad thing in my opinion. For ages I have been a fan of vests, and this fleece vest is a really great layering piece in all seasons. Ski-touring in winter, hiking in spring and mountaineering & backpacking in summer, the Coefficient Vest has been a faithful companion. The Powerdry fleece ist toasty warm and wicks sweat further away to the outside, and it's pretty warm for its weight, too. It's a slim-fit piece that's slightly longer so especially good in winter. / 225 g in Size S
Norrøna falketind longsleeve
★★★★
80€, available at Backcountry.com, Bergfreunde and Bergzeit
More of a urban outdoor piece for me is the Norrøna falketind longsleeve, a beautiful and super-comfortable longsleeve. Made of drirelease wool which is a mix of wool and Polyester it is soft on the skin, and the Polygiene finish ensures it stays odour-neutral for a while (two to three days in use, I'd say). It's simply a pretty longsleeve that feels great to wear, and a basic for me when I'm on a business trip. / 162 g in Size S
Eagle Creek Pack-It Spectre
★★★☆
14€ - 27€, available at Backcountry.com, Bergfreunde, Bergzeit, Campsaver.com and REI
The Pack-It Spectre Cubes ensure everything stays orderly in my pack or duffle when I travel. Especially If I travel only with my backpack I love to take one or two of these, as I can fit all I need in them, compress the content even further and at the hotel can just pull all my clothes out in one go. The Silynlon cubes are highly-water-resistant and their different shapes and sizes mean you can get the ones that suit you best. I have a compression cube and a smaller half cube in which I can fit garments for ten days without problems (they help in packing less, but I still tend to come home with one or two shirts I didn't wear). A useful organizing tool if you don't want that your underwear is seen by everyone if you get something out of your backpack! / 19 g for the Half Cube, 57 g for the large Compression Cube
Marmot Mono Pant
★★★★
90€, available at Bergfreunde (On Offer for 43€!) and Bergzeit
I love climbing pants because they're comfortable and allow for freedom of movement. And if they are as comfortable and cool-looking as the Marmot Mono Pant you can't go wrong really. The deep pockets are great for phone, wallet and keys and there's also a brush pocket for when you're working on your boulder project. Great for climbing and bouldering they also work very well in the city, and as my feel-good pants they have seen a lot of use during the last year. The material is breathable yet durable, and even super-hot summer days allow you to stay cool in these. The leg cuffs an be adjusted in width so you can see you're foot placements, too. / 325 g in Size S
Arc'teryx Gamma Rock Pants
★★★★
150€, available at Amazon.com, Backcountry.com, Bergfreunde, Bergzeit (On Offer!) and Campsaver.com
At the Arc'teryx Academy in Chamonix I got the Gamma Rock Pants and immediately fell in love with them. They are light, durable, comfortable, water- and wind-resistant, have two zippered pockets, allow for great freedom of movement and even have an integrated belt. I have used this on pretty much every 3-season hike and climb in the last twelve months, from climbing and Via Ferratas in the Dolomites to mountaineering in Macedonia last month and hiking in Austria. If you look for just one pant for all your activities take a good luck at these trousers, as they Rock! / 299 g in Size S
Arc'teryx A2B Chino Pants
★★★☆
110€, available at Amazon.com, Backcountry.com, Bergfreunde, Bergzeit, Campsaver.com and REI
Another more lifestyle oriented pair of pants, the A2B Chino Pants actually are made for the bicycle commuter. If you roll the trouser leg up reflective details appear, and the material is water-resistant. A zippered side pocket ensures something important like your phone doesn't drop out of your pocket. The two hand pockets also are good for all the other stuff you carry along. It's a good looking pants that is at home in the city, but thanks to the bicycle cut it also is alright for medium-length rides around town. If you need a business-like pants that also allows you to ride your bike, check this one out. / 305 g in Size S
BUFF High UV Buff
★★★★
18€, available at Amazon.com, Backcountry.com, Bergfreunde, Bergzeit, Campsaver.com and REI
The BUFF really shouldn't need an introduction I reckon. I got the Anton Krupicka High UV Buff as I like the print of the Flatirons on it, but with hundreds of prints you will find one that suits just your taste. These are the UL multi-use items: From it's intended use as a piece of headwear you can convert it into a pot holder, water filter and towel. It's a super useful item, and in these sunny summer months the High UV version keeps you from burning your head. / 39 g
Arc'teryx Neutro Visor
★★★☆
25€, available at Backcountry.com, Bergfreunde and Bergzeit
In case a Buff and shades are not enough sun protection, then a Visor is a good way to keep the sun out of your face. The Neutro Visor from Arc'teryx is flexible, light and a nice piece for more sun protection. I can roll it up to the size of an orange if not needed and pack it away into my running short's back pocket, and it also keeps reliably the sweat out of my eyes. / 40 g in Size S
VIVOBAREFOOT Gobi II Hopewell
★★★★
150€, available at Amazon.com (for $79!)
Sometimes there are occasions or seasons where trailrunners or sandals are not appropriate and I need to wear proper shoes. The Gobi II Hopewell from VIVOBAREFOOT are these shoes for me, and best of all: They are proper barefoot shoes, with a wide toe box, and medium to narrow heel, a grippy sole and they look the part. A lovely pair of shoes from the guys at VIVOBAREFOOT, sadly sold out at the moment, so if you see a pair somewhere try them on and see if they suit you. / 521 g for the pair in EU Size 42
adidas terrex X-KING
★★★☆
160€, available at Amazon.com and Bergzeit
New trailrunners with an awesome sole - YEAH! The terrex X-King sport a sole from Continental, the car and bicycle tire manufacturer, and promise to give you superb grip. Well, I ran down muddy mountains in these and didn't slip, sprinted over icy and snowy trails and walked up on rubble paths, always with great grip. The Speed Lacing is great (though I made the one shoe a wee bit too short almost) and also otherwise this trailrunning shoe with the low drop allows for a great feel on the trail. That's thanks to the Mountain-bike-inspired "tyres for your feet" design that's directly moulded to the upper for added stability. They're great for hiking, too, if you're into fast & light shoes with great grip. / 567 g for the pair in EU Size 42
Outdoor Research Seamseeker Gloves
★★★☆
48€, available at Amazon.com, Backcountry.com, Bergfreunde, Bergzeit (On Offer for 16€!) and at Campsaver.com
I have used the Outdoor Research Seamseeker Gloves for belaying and Via Ferrata hikes and have found them great in 3-season use. Especially on hot days in the Alps the open finger tips and breathable upper are comfortable and preferable in my opinion over a normal glove. The gel padding in the palm does run hot on long rappels, but otherwise they do their job well. Useful side effect: Hands get less dirty! / 98 g for the pair
Black Diamond Magnetron RockLock
★★★☆
25€, available at Amazon.com, Bergfreunde, Bergzeit, Campsaver.com and REI
I bought a pair Black Diamond Magnetron RockLock carabiners about three years ago, and both have seen constant use in that time. One is connected to my PAS (see underneath) and the other one is with my belay device. I like that they're easy to operate in any season with one hand, with our without gloves, don't freeze when ice climbing and are big and hence lie good in the hand. The gate opens wide for easy clipping, too. I have a bunch of HMS carabiners, but these two are my favourites for their ease of use. / 82 g
Metolius PAS 22
★★★★
50€, available at Amazon.com, Backcountry.com, Bergfreunde, Bergzeit, Campsaver.com and REI
PAS stands for Personal Anchor Sysyem, and if you do Multi-pitch or alpine climbing then you probably know what this is. You clip into the stand (belay) with it, and the beauty of the PAS from Metolius is that the six loops all have a breaking load of 22 kN. The length is adjustable to your needs at the belay and can be long or short, and each loop having such a high breaking load means more security. It's also light and stores compact when climbing, so for me a better system than a Daisychain or a 120 cm sling. / 76 g
Scarpa Furia
★★★★
145€, available at Amazon.com, Backcountry.com, Bergfreunde, Bergzeit and Campsaver.com
The Furia from Scarpa is a climbing shoe for bouldering and sports climbing. I found the VIBRAM® XS Grip2 sole great for slabs and small holds alike, and friction climbing in them is a lot of fun. The toe is covered with rubber on top, too, which makes it great for toe hooks, and the heel is also covered in rubber for heel hooks. Inside it feels very comfortable and even in hot weather (25°C+ in Greece, for example) it remains comfortable. The two Velcro straps allow to adjust the shoe great to my foot, and the two straps in the back make it easy to pull the shoe on and off. It's a more advanced shoe so beginners probably want a less aggressive shoe than this one, but if you're climbing hard then this shoe is right for you and can help you to solve a hard boulder problem or succeed on a hard sports route. / 366 g for the Pair in Size 40
Grivel Mega K6G
★★★☆
18€, available at Backcountry.com and Bergfreunde
The Twingate carabiners from Grivel are awesome, a real innovation in the climbing carabiner market. Grivel thinks they're just as safe a a screwlock carabiner, and I think I agree. Things must be pretty dire for something to open this in a situation, but they're easy to use with one hand (without gloves) on the other hand. I use the one I have in different situations, and Grivel suggests you could use it from building a belay to clipping into one. It's a tad heavy for alpine use, but works well on Multipitch climbs et al. / 76 g
SCOTT Obsess ACS Sunglasses
★★★☆
80€, available at Amazon.com and Amazon.co.uk
I like sunglasses and use them year-around, almost every day. The Obsess ACS from Scott I can wear without problems for 12 hours straight, so comfortable they are. Made for small to medium faces they fit me very well. The mirrored glasses in red also are surprisingly scratch-resistant and they haven't gotten a single one in the 9+ months I now have them in use. Developed as bicycle glasses they work equally well for skiing and hiking as well as strolling through town & travelling. They're pretty affordable, too, for such good shades. In some situations they do fog up a bit, but if I take them up it really just takes six seconds and they're clear again. Great shades for just about any outdoor adventure. / 27 g
Montane Softflask 500 ml
★★☆☆
25€, available at Bergfreunde
At 25€ the 500 ml Softflask is far from being a bargain. It's also not particularly light in terms of weight-to-volume. But it's easy and convenient to use - both for drinking as well when storing the empty bottle, as it takes up just a wee bit of space. If you need a light-ish softbottle give the Softflask a look and decide if you want one. / 30 g
Disclaimer: Some of the gear was sent for free to me. This does not influence the article as I maintain full editorial control of the content published on this site. There are affiliate links in this article. Read the Transparency Disclaimer for more information on affiliate links & blogger transparency.