Tomorrow at 08.50 o'clock the girlfriend and me will take the bus to Kuru to walk part of the Pirkan-Taival Trail. Its gonna be an easy, relaxed walk, where she will be the boss if it comes to speed and breaks. I will carry the food, sleeping bags and mattresses, kitchen and so on, while she can take it easy and carry the snacks and her own water. While I was considering going with the Real Turmat food, we decided to go with my own cooking for this trip. We also just got her a Haglöfs Hail Q Jacket this morning, for rain and wind protection. Together with her Haglöfs pants she's now set and should be save if there's some rain.

Our Dinner will be curry rice with tuna and pineapple. Its quick and tasty, and costs significantly less than the 8€ one of the Real Turmat bags would have cost me. As a nightcap we take a hot Minttu cacao - Minttu is a delicious Finnish peppermint liqueur, and I saw in Alko that they had it in a small bottle so it is perfect for this trip.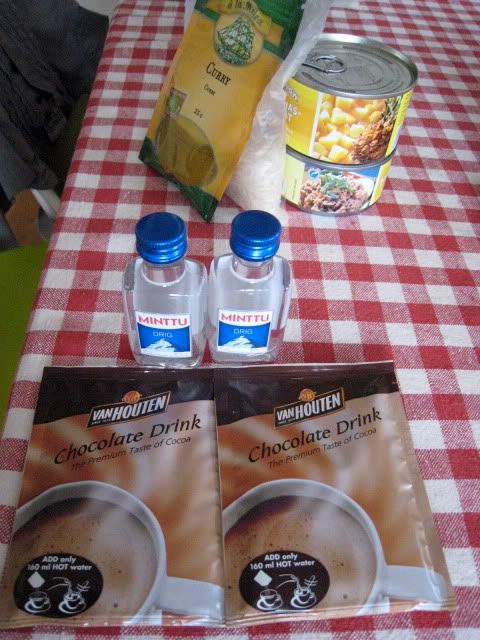 Dinner + Nightcap.

As snacks I bought us a variety of organic fruit bars, at 1€ a piece they're affordable and tasty. Two organic chocolate bars for some quick energy, as well as a bag of assorted nuts should keep us going. If we feel like something warm to drink, the good cappucino cacao will be the go to.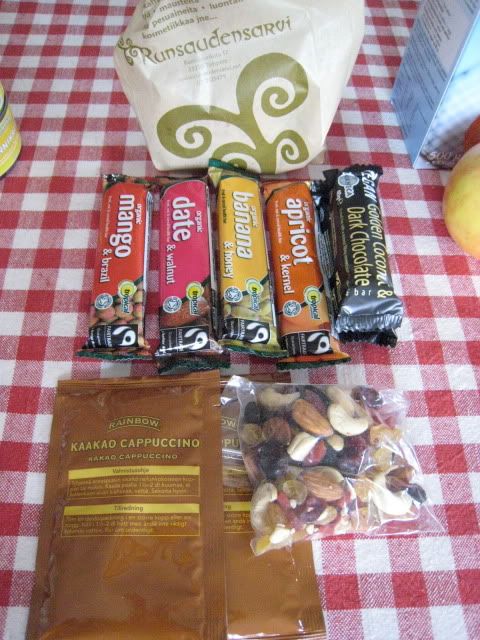 Snacks for the day.

Breakfast will be organic müsli with milk powder, an apple - I can't continue to say how good apples are as trail food! - and another cup of cappucino cacao. I'll pre-mix the müsli and milk powder in zip-lock bags this evening, so I don't need to carry the cardboard boxes.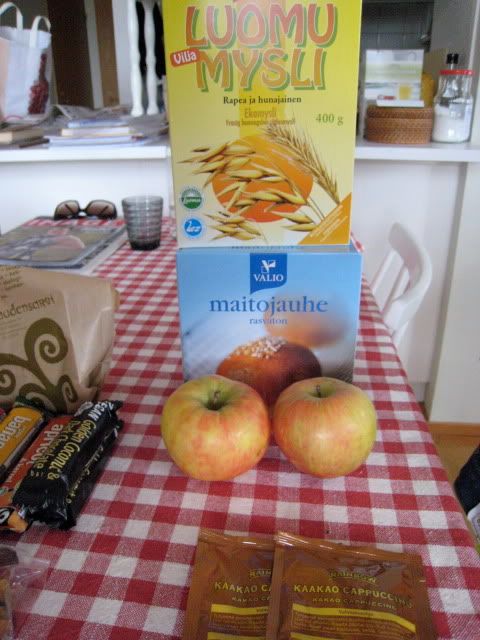 Breakfast.

We'll be back Wednesday evening, so you can expect a trip report one Thursday or Friday.